WORKSHOPS
In addition to daily didactic lectures, we also use a workshop format to teach curricular content best suited for specific resident class level. In the first two-week orientation block of the academic year, residents have workshops, as well as projects, structured for the individual class group. Again at mid-year, residents will have an opportunity for further class-focused orientation workshops in a half-block format.
For example of the orientation workshops, first year residents have a series of workshops geared toward orienting them to their continuity clinics. Example sessions for the second year residents include teaching them skills to work as senior residents, whereas third year residents will have workshops that cover professional development topics. Mid-year focus would be for improving clinic efficiency, advanced EMR and other similar class-specific topics.
During the rest of the academic year, first and second year residents have two workshops per month and third year residents usually have one workshop monthly. These workshops include a variety of topics, such as sessions where first year residents learn how to do newborn and well baby exams taught by the faculty members in charge of our pediatrics curriculum, and senior residents discuss their Clinical Inquiries in a series of workshops moderated by their faculty co-authors.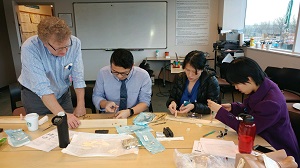 In addition to the monthly workshops noted above, the second year residents also participate in six sessions dedicated to a Quality Improvement project. This is to help fulfill the American Board of Family Medicine requirement of having at least one such activity completed prior to sitting for the certification boards in the third year of residency.
See below for detailed information regarding the workshop topics and teaching faculty. Note that this information is a representation of the academic content and may change without notice.
---
R1s (First Thursdays)
| TOPIC | SPECIALTY |
| --- | --- |
| Adult Health Maintenance Visits | Internal Medicine |
| Well Child Visits 101 | Pediatrics |
| ADHD Evaluation | Pediatrics |
| Prenatal Visits | OB |
| Constructing Genograms | Behavioral Science |
| Office Gynecology | Gynecology |
Joint R1/R2 (Second Thursdays)
TOPIC
SPECIALTY
Conflict Resolution
Behavioral Science
Suicide Assessment / Intervention
Behavioral Science
Well Child Visits 201
Pediatrics
Ortho Casting Workshop
Orthopedics
Ortho Injections
Orthopedics
Medical Mistakes
Family Medicine
Below the Belt Procedures 101
Family Medicine
Pediatric Psychopathology
Behavioral Science/
Pediatrics
Positive Parenting Skills
Behavioral Science/
Pediatrics
Cultural Humility
Behavioral Science
Sexual Function
Behavioral Health
R2s Only (Second or Fourth Thursdays)
| TOPIC | SPECIALTY |
| --- | --- |
| Conducting Travel Medicine Clinics | Community Medicine |
| Dermoscopy | Dermatology |
| Office Derm Procedures | Dermatology |
| Suboxone Training | Family Medicine |
| Colposcopy | Gynecology |
| Quality Improvement Workshop series | Family Medicine |
R3s Only (Third Thursdays)
TOPIC
SPECIALTY
ClinicaI Inquiries Series
1. Prep Your CI
2. Making Sense of Your Search
3. Making Sense of Your Evidence
4. Organizing the Evidence
Family Medicine
Behavioral Pediatrics
Behavioral Science
Physician Resiliency
Wellness
Couples Counseling Skills
Behavioral Science