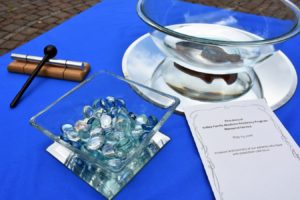 From last year's memorial service, this was posted on Valley Medical Center's Facebook:
"Our joys will be greater, Our love will be deeper, Our lives will be fuller, Because we shared your moment."
Valley Family Medicine first year residents–along with Chaplain Donna Schreibner, Dr. Jan Carlton, Dr. Tanya Rizzo, Dr. Tony Pedroza, and Dr. Heather Rudisill–held a memorial service in our Healing Garden to celebrate the lives of their patients who have passed over the past year.
Reading each name aloud, residents shared brief stories about each one of them before placing stones scented with frankincense and myrrh ceremoniously in a water filled glass bowl. The ceremony ended with a Tolling of The Bells, in honor and memory of those patients who have entrusted their care to us.