Thuy Pham, DO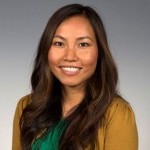 Residency Class of 2017
I was born and raised in a small town in Vietnam but have been calling the Pacific Northwest home since age 9 when my family moved to Tacoma. I completed my undergraduate work at the University of Washington and then headed off to sunny Arizona for my first year of medical school at A.T. Still University. I moved back here for all of my clinical rotations during the final 3 years of medical school and I am thrilled to continue my medical education in the area.
The broad scope of family medicine makes it intellectually challenging and fun daily. However, what draws me in the most is the continuity of care that allows me to form meaningful relationships with my patients. This has proven to be a positive renewing effect on my life and makes work fun. I have special interest in OB and international medicine and look forward to incorporating both in my future practice as a full spectrum family physician. I also have a passion for working with the underserved community and plan to work in a federally qualified health center.
Some of the activities I enjoy outside of medicine are running, hiking, and generally just being outdoors (even if it's raining). I also love to travel and eating my way through the places I visit. I have traveled extensively through Southern Africa, Vietnam, and the Philippines. I have found that traveling provides a valuable avenue for learning in my life and I plan to never stop.
After graduation from residency, I will stay within the Valley Medical practice group with my family medicine practice at Cascade Clinic.