Shawn Myers, MD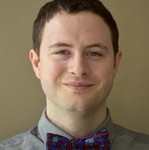 Residency Class of 2017
I'm originally from Michigan, having been raised there since I was two weeks old. Grew up in a small town in mid-Michigan, went to Undergrad at Western Michigan and then Medical School at Wayne State in Detroit. Now I'm over here in the Pacific Northwest and I love my new home. What most drew me is the beautiful scenery, and I am loving the weather. I do miss the snow a bit, and so I can't wait to visit Leavenworth during the winter.
I love all aspects of medicine, which is why I chose Family Medicine. I enjoy how every body system interacts with each other. I like being able to do it all. Most of all I enjoy the continuity and interaction with my patients; there is little more rewarding than getting to know a person, helping them out, and then getting to hear how their life has changed or how their health has improved since their last visit.
Outside of medicine my life is filled with a happy marriage and three cats. I enjoy nerding out by playing videogames (League of Legends, The Legend of Zelda, Puzzles and Dragons) and reading books or listening to books on tape (Ender's Game, Dune, Job: A Comedy of Justice). Right now the favorite activity of my wife and me is to try all the restaurants in Renton and Kent while looking for our new favorite joints.
Following graduation, I will be practicing in Iwakuni, Japan.