Samira Farah, MD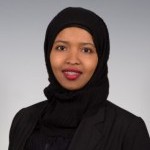 Residency Class of 2016
I was born in Somalia, but was raised in Kent, Washington with my four siblings by our mother. I received my undergraduate education at the University of Washington, where I double majored in Cellular, Molecular, and Developmental Biology as well as Public Health. I completed my medical education at the University of Washington School of Medicine.
As an individual who grew up in an underserved community, I have always had a drive to give back to these communities in any way possible. This has led me to volunteer and participate in several community services and student run organizations whose missions have been overcoming inequality, in health and social justice. I am currently interested in practicing full scope Family Medicine and I am looking forward to the limitless opportunities that family medicine has to offer. I am truly excited about being trained here at Valley Medical Center, a hospital I fell in love with after my third year clerkship rotation in OB/GYN.
My interests include baking, eating chocolate, watching foreign movies, hiking, running, and spending time with friends and family.
After graduating from VFM in 2016, I chose to stay in the Valley family and will be working the clinic network!