Rachel Kopicki, MD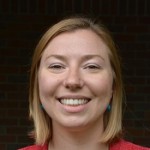 Residency Class of 2019
I grew up in Williamson, NY a small town in upstate NY on the shores of Lake Ontario. Inspired by my childhood pediatrician and my mother's compassionate nursing career, I dreamed of becoming a primary care physician from a young age.
After high school, I attended college at Hobart and William Smith Colleges in the beautiful Finger Lakes region of NY. Knowing I would pursue a career in field of medicine I, of course, majored in European Studies. I spent a semester abroad in Copenhagen studying human health and disease, learning about the Danish healthcare system and experiencing the cultures of Europe.
After graduating from college, I continued my education at SUNY Upstate Medical University in Syracuse, NY, remaining fairly close to home. During medical school I refined my clinical interests and determined that family medicine, with its combination of continuity and variety, was an ideal fit for me. Through my clinical experiences, I have developed interests in public health, women's health, and integrative medicine, which I expect to pursue as my career progresses.
I have been drawn to the Pacific Northwest for several years, but have not had the opportunity until residency to relocate. While I have enjoyed the Pacific Northwest and wish to return there, I have decided to work in New Zealand for at least a year post residency.
Beyond the bounds of medicine I have a variety of interests: travelling, hiking, running, kayaking, cross-country skiing, gardening, art, yoga, knitting, crafting, learning new things, reading and live music.