Rachel Dubay, MD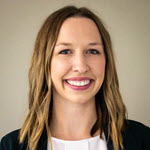 Pronouns: She/her
Hometown: Plymouth, MN
Medical School: University of Minnesota
I was born and raised in Plymouth, Minnesota – the land of 10,000 lakes and tater-tot hotdish. Prior to medical school, I worked as nursing assistant at a long-term care facility; this job helped me uncover my love for getting to know patients and their stories, and as a medical student, I quickly found my calling within family medicine.
I am so grateful for my training at Valley – a program full of people who share a passion for social justice and providing patient-centered care to diverse and underserved communities. Within family medicine, I particularly enjoy obstetrics, mental health, palliative and preventative care, and education.
After residency, I am pursuing fellowship training in advanced obstetrics. I plan to continue to practice full-spectrum family medicine and ultimately hope to teach as faculty at a residency program.
In my free time, I enjoy a semi-regular yoga practice, spending time with my husband, Kevin, and being active and outdoors through activities including hiking, biking, and backpacking. On particularly rainy days, you can find me curled up on the couch with our cat, Nola, and a good book.