Patricia J. Stern, Ph.D.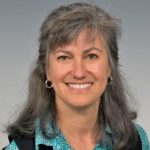 Behavioral Medicine
Patricia graduated with a Bachelor of Arts degree from Grinnell College. She earned her Ph.D. in Health Psychology from Yeshiva University in New York.
Her professional experience includes work in community mental health (Eastside Mental Health, and Samaritan Counseling Service) and extensive history in several family medicine training programs. During her early career she worked as a behavioral scientist for The Residency Program in Social Medicine at Montefiore Medical Center, Bronx, NY. After returning to Seattle, she served as Education Coordinator for WWAMI Family Medicine Clerkship at the University of Washington School of Medicine.
Patricia joined the Valley Family Medicine faculty in 1999. In addition to coordinating the residency's behavioral medicine curriculum, she is a licensed marriage and family therapist and maintains a clinical practice at the residency clinic. Her professional interests include family systems therapy, medical ethics and the relationship between nutrition and mood disorders. In her free time she likes to kayak, skate-ski, play piano and kick back with family and friends.