Minh Dao, DO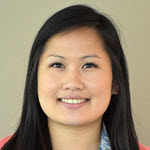 Residency Class of 2020
My family immigrated to the United States from Vietnam when I was only two years old and we have resided in Renton, WA, since I was in elementary school. I completed my undergraduate studies at the University of Washington in Seattle with a degree in Biology & Biochemistry and minor in Music. I eventually found my way to Yakima, WA, for my medical education at Pacific Northwest University. Prior to medical school, I worked in the healthcare field as a scribe and patient services coordinator.
One of the reasons I chose family medicine as a specialty is because of the invaluable relationships that are formed between patients and their primary care providers. I enjoy getting to know my patients and learning their unique life stories—realizing that there is more to each person than just a collection of symptoms and body parts to treat. In addition, I like the variety of medical problems I get to see daily as a family doctor and the challenge that comes along with this. I am especially interested in preventative medicine, women's health, and obstetrics.
In my free time I enjoy spending time with family and friends, finding new restaurants to eat at, exploring random parks, doing arts and crafts, and volunteering at my church.