Melissa Calhoun, DO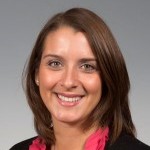 Residency Class of 2015
I have been lucky enough to call the northwest home for most of my life. I was born and raised just outside of Portland, Oregon and I was happy to stay in the northwest for my undergraduate education. I attended Oregon State University (Go Beavers!!) where I earned my degree in Biology. I received my medical education at Midwestern University in Glendale, Arizona. My husband and I enjoyed the nice weather for four years, but couldn't be more excited to return to the Pacific Northwest and explore Seattle!
Family medicine drew my attention because I enjoy variety in my daily life as well as continuity of patient care. I am especially interested in women's health, obstetrics and taking care of a family unit. I am returning to my home roots and will be practicing family medicine in the Portland area after the completion of residency.
Outside of medicine I enjoy spending time with my husband, our twins, and our dogs Isabella (a Boston Terrier) and Hollywood (a Pit Bull), traveling, baking, reading, excellent coffee, and trying new breakfast restaurants.