Matthew Duenas, MD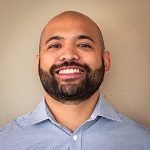 Pronouns:
Hometown:
Medical School: University of Hawaii
I was born and raised on the tiny Pacific island of Guam and consider myself blessed to grow up in such an idyllic tropical paradise. When high school ended, I moved to bay area in California to attend college at Stanford University where I studied biology and played rugby. After college, I moved down to Los Angeles and did a few years of cancer research at City of Hope and continued to play in men's rugby clubs while applying to medical school. A true island boy at heart, I found my way back to the prototypical island paradise and attended medical school at John A. Burns School of Medicine at the University of Hawaii at Manoa.
As part of the indigenous Chamorro population of the Guam, I developed interest in community health and underserved medicine. My time playing rugby from high school through college fostered an interest in sports medicine, particularly concussion management and using it as an avenue to connect with youth through mentorship. These interests, as well as the underlying desire to develop long term relationships with patients and advocate for my community, led me to family medicine.
I'm sad to leave beautiful Hawaii but am excited to be in the Pacific Northwest and a whole new chapter of adventure and exploration. Outside of medicine, I enjoy drawing, being outdoors, and spending time with my loved ones.