Maryam Sabetian, MD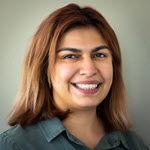 Pronouns: She/her
Hometown: Boise, ID
Medical School: University of Washington
I was born in Iran and lived there until I was 10 yrs old. My family and I moved and lived in Pakistan for nearly 3 years before migrating to United States as refugees. In Pakistan, I had the opportunity to closely observe and appreciate the care provided by nurses and physicians to refugee populations through the United Nations. I was fascinated by their vast knowledge of the human body as well as their passion for caring for fellow human beings. This ignited my passion to someday be one them and be an active force for improving the health and welfare of everyone – especially those in dire need.
My family and I lived in Boise, ID where I attended college at Boise State University (BSU) and earned my degree in Molecular and Cell Biology. I participated in breast cancer research at BSU and completed a research internship at Johns Hopkins School of Medicine. I then attended the University of Washington School of Medicine where I was involved in several volunteering and community service projects that further developed my passion to be an agent for social justice in health care and provide care to the most vulnerable populations.
I am very happy to join the Valley Family Medicine residency program and to be part this amazing team of providers that are passionate and knowledgeable. My specific interests in medicine are women's health, reproductive rights, LGBTQ health and urgent care. I am excited to get to know and care for patients at Valley Medical Center!