Lindsay Gunnell, MD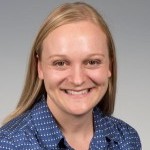 Residency Class of 2015
I grew up in Tucson, Arizona which, as any true desert rat will tell you, quickly fosters a deep love for rain. As a little girl I spent many of my summers in the U District while my mom finished her PhD in Nursing, so falling in love with Seattle was inevitable. For undergrad, I went to Brigham Young University in Provo, Utah and completed a degree in Neuroscience. After getting married, I joined my husband in Boston, Massachusetts and worked on neuroendocrine research at Massachusetts General Hospital. While at MGH, I helped design studies and publish papers on gigantism/acromegaly, obesity, anorexia, and depression.
I returned home for medical school at the University of Arizona and quickly discovered passions for obstetrics, pediatrics, and integrative medicine. My main interest is in combining complementary and alternative medicine–with a heavy emphasis on nutrition–into pregnancy, pediatrics, and women's health throughout the lifespan. I also hope to someday attend culinary school and teach cooking classes in my clinic, which will be in the greater Seattle area.
At home, I am blessed with a supportive husband who works as a mechanical engineer, a beautiful daughter, and two curious kitties. I enjoy rummaging in vintage stores, running, reading, and recycling. And also rain. I'm very excited to be practicing medicine in the great Northwest!