Leanne Kildare, MD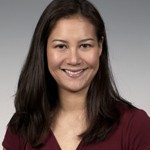 Residency Class of 2013
I was born and raised in Albuquerque, New Mexico (it is indeed part of the USA), which makes me an official desert rat, green chile expert, and Mexican food snob. I fell in love with the Pacific Northwest when I attended the University of Oregon (Go Ducks!) for my undergraduate degree. After a stint as a research technician where I bred zebrafish and studied their nervous systems, I decided that people were better company than fish and attended medical school back home in the 'burque at the University of New Mexico (Go Lobos!).
I loved being back in my hometown but I was very excited to start my new adventure in Seattle and at Valley Family Medicine as a burgeoning family medicine practitioner. I was drawn to family medicine because I love variety, getting to know my patients' stories, and helping people through all stages of life. I especially enjoy women's and reproductive health, pediatrics, and serving underserved populations both domestically and abroad.
Having completed my residency training, I have decided to stay in Seattle, where I am practicing full-scope family medicine.
Outside of the hospital and clinic, I enjoy running, rock climbing, SCUBA diving, making jewelry, cooking, traveling, adventuring, and generally reveling in life.