L. Elizabeth Moreno, MD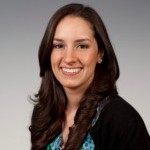 Family Medicine Fellow
I was born and raised in Guadalajara, Jalisco, Mexico – the Mexican state well known for its Tequila, Mariachi and beautiful women (proudly represented by two Miss Universe winners). I finished my medical education at Universidad de Guadalajara. I participated as a biochemistry instructor since my second year and coordinated experimental research projects in diabetes and epilepsy teaching and guiding medical students.
Although I was living in such beautiful country I wanted to explore a different health care system which could give a more comprehensive and integrative care for my patients. I then decided to come to the US. My post-graduate medical training began with a preliminary surgical internship at Northwestern University. Despite enjoying my time in the operating room, I found that I most enjoyed spending time with patients discussing long-term care issues. I found family medicine to be the ideal specialty to continue to pursue developing continuity relationships with patients. I joined Valley Family Medicine residency for my family medicine training.
Also having an interest in medical teaching, I am staying with Valley Family Medicine, this time as a faculty fellow. I will spend the year further developing my teaching skills while on faculty with VFM as well as a participant in the Teaching Scholars program at the University of Washington.