Karena Whitworth, MD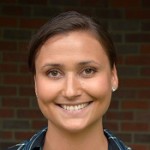 Residency Class of 2019
I was born and raised in Kodiak Alaska and decided to venture out of Alaska for college. I attended Western Washington University and received a degree in Biological Anthropology. After graduation I remained in Bellingham and worked at a family physician's office. It was then that I left the beautiful Pacific Northwest and headed east! I went to medical school at Rush Medical College in Chicago were I earned my medical degree.
Although I wasn't certain which medical specialty I would go into when I started medical school, it quickly became apparent that Family Medicine was the perfect fit for me. I enjoy seeing patients of all ages and especially like taking care of a patient through different life stages. Women's health and obstetrics is my particular interest within family medicine. Now that I have finished residency, I have returned to Bellingham with my family where I will be practicing.
In my spare time I love spending time with my husband and step-son! We have a french bulldog puppy named Lux and a 12 year old blue heeler named Wyatt and they keep us pretty busy! We love hiking, enjoying the nice PNW summers, watching funny videos and everything in between!