Jaspreet Jaura, DO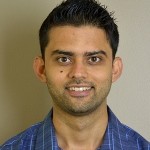 Residency Class of 2018
After being born and raised in India, I moved to Vancouver Canada, where I completed part of my high school and then had the opportunity to go to Pharmacy school at the University of British Columbia. I worked as a Pharmacist for about a year only as I had known since high school that working as a Physician was my "dream job."
Pursuing this passion took me all the way to NYC where I not only learned Medicine at Touro College but also met amazing people and experienced a different culture. More importantly, I learned things about myself that I didn't previously know. In other words, I discovered myself during that journey! My involvement with the Rutgers FMIG reassured me of my career path.
I am excited to be back on the West coast and close to my family. During my spare time, I enjoy traveling (Greek islands is the most beautiful place I have ever seen), working out, trying out authentic cuisines, watching mystery & thriller films, and spending time with family and friends.
I have returned to Canada to be with my family and practice Family Medicine where I can have diversity and continuity of care with my patients.