Haris Ahmad, DO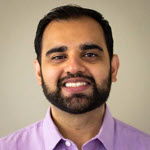 Pronouns: He/him
Hometown: Kent, WA
Medical School: Pacific Northwest University
I was born in Pakistan, and moved to Kent when I was 1 year old and have called it home ever since. I have grown up in this area, going to school in the Kent School District, UW for undergrad, and Pacific Nortwest University in Yakima for medical school. I have seen this area develop exponentially ever since I first moved here, and am so happy to be able to practice medicine in my hometown. VMC is where many of my family members were born, and may have been delivered by a resident physician. To have the opportunity to able to build a similar relationship with a new generation is very exciting!
I loved being at Valley and getting to work with a diverse patient population. I am excited to have the opportunity to practice family medicine because of the relationships that I will build with my patients. I am passionate about preventative medicine, and working with patients so they can make the best health decisions for their circumstances. After graduation, I joined Swedish Queen Anne.
Outside of medicine, I enjoy exercising, reading and spending time with family and friends.