Hang Chau-Glendinning, DO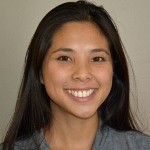 Residency Class of 2018
My hometown is San Diego, CA, and after spending my undergrad years across the country at the University of Pennsylvania, I returned to California where I attended Western University of Health Sciences for medical school. As an osteopathic physician, we were given the additional training to provide Osteopathic Manipulative Therapy as a way to support the body's natural healing mechanisms.
I am the oldest of 4 children; my father and mother immigrated from Vietnam and Laos respectively. My father's strong work ethic and mother's generosity paved the way for this rewarding career and family that I now have.
Outside of medicine, I love trying new cuisines, exploring parks and playgrounds with my husband and young son, traveling, journaling, and creating communities and opportunities for neighbors to meet.
I am thrilled to have been a part of Valley Family Medicine and am grateful for the opportunity to have worked with our talented & thoughtful residents and experienced faculty. I have a particular interest in preventative medicine and the social components of health and welfare as well as oncology and geriatrics.
I am practicing family medicine in the beautiful greater Olympia area.