Greg Jungwirth, MD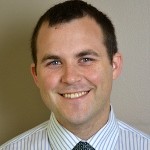 Residency Class of 2018
Originally from Oregon, I began my 8 year tour of the Midwest by attending the University of Notre Dame, before proceeding on to The Ohio State University for my medical training. I found myself drawn to Family Medicine, where the need for doctors is so great and the potential to change my patients' lives so profound. While I have enjoyed pursuing interests in Endocrinology and Pediatrics as a medical student, I always knew that Family Medicine was the path that would allow me to do it all. I look forward to the opportunity to make long-standing relationships with my patients and their families, and taking care of people with richly different backgrounds.
During my career path I have met many great friends and, most importantly, my wonderful wife Tracy, who practices Pediatric Physical Therapy. Through her I have come to learn a great deal about caring for children who need extra help to get started in life-socially and developmentally.
This year I have the distinct honor of serving as Chief Resident of Valley Family Medicine, along with my resident partner Amanda Berbert. I am proud to have the opportunity to serve this wonderful program, which has given much to me through the years of my training, and to help maximize the learning of my colleagues. We have built a truly exceptional program here in South King County, to the benefit of our patients and fellow physicians alike, and I seek to do my part to build on its prior success.
In my spare time, I enjoy finding outdoor adventures with my wife, and our dogs, Oliver and Waldo. We enjoy exploring new places, hiking or biking. At home, we like to relax by watching some of our favorite comedies or playing dominoes. I'm an avid fan of both playing and watching soccer and tennis. And of course, Tracy and my Midwestern influence has made us passionate Notre Dame and Ohio State football fans.
My future practice will be back where my medical career started – The Ohio State University healthcare system.