Garima Ajmani, MD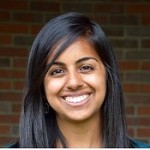 Residency Class of 2019
I was born and raised in Chicago and became interested in a career in medicine in high school. I enjoyed studying Biology and volunteered at a community hospital in my free time.
I attended Washington University in St. Louis for my undergraduate degree in Biology and stayed in St. Louis for medical school where I attended Saint Louis University. The school's mission of social justice resonated with me and I focused on serving urban communities. I began a health literacy program at a local community center, worked at the student run health clinic, and became a certified HIV counselor. These extracurricular activities sparked my interest in Family Medicine. I enjoyed being able to provide a broad spectrum of care and continuity of care.
After graduation from residency, I decided to stay in the Valley family by joining the Kent Station Clinic.
In my free time I like trying out new recipes, reading, playing board games, and traveling.