David Lin, DO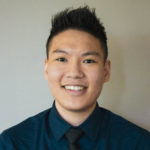 Pronouns: He/Him
Hometown: Olympia, WA
Medical School: Pacific Northwest University
I was born in Seattle, WA, and grew up in the beautiful state capital, Olympia. I attended the University of Washington for my undergraduate education, where I earned my mathematics degree while completing research in biostatistics. Having spent most of my life in the Greater Seattle area, it was only natural that I fell in love with the community and culture. Even from a young age, I dreamed of serving my community as a medical professional. With much love and support from my family and friends, I set off to Yakima, WA to pursue this dream by attending medical school at Pacific Northwest University.
I chose family medicine because of the impact that family doctors had on my upbringing. Throughout my life, primary care physicians have been my caregivers, role models, mentors, and community leaders. The diversity of challenges family doctors face, as well as their focus on preventative and longitudinal care, are what truly resonate with me. I am excited to be a part of the Valley Family Medicine team, where I can learn and grow with other professionals who share these passions. My special interests within medicine include obstetrics, teaching, addiction medicine, and addressing social determinants of health.
Outside of the healthcare setting, you can find me playing board games and video games with friends, practicing violin, playing tennis, or dressing up my two cats and taking pictures of them.