Dan Kelley, MD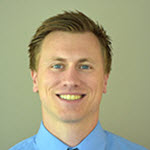 Residency Class of 2020
I have always been interested in medicine as my dad is a family practice doctor in our hometown of Kirkland, WA.  However, baseball was my first love, and I was fortunate enough to play ball for Seattle Preparatory HS and Occidental College, where I studied kinesiology.  After realizing that the market for undersized ball players with average speed and below average power is minimal at best, I fully turned my sights on pursuing a career in medicine.  At the Keck School of Medicine – USC, I focused on the different avenues for pursuing a career in sports medicine. However, I realized that I wanted more from my career: community involvement, a wide breadth of practice, and the opportunity to build lasting relationships with patients.  Simply put, family medicine hit all the check boxes, and I'm thrilled to be back home in the Pacific Northwest to continue my training.
Outside of the clinic and hospital, I enjoy spending time with my lovely wife, Ali (a fellow Keck grad) and son.  My hobbies include a great variety of couch activities, such as reading, listening to podcasts, and watching the Hawks, Dawgs, and M's.  I supplement these with a healthy dose of jogging, golf, softball, and basketball.
After residency, I will be a sports medicine fellow at the University of Chicago.