Chris Gerard, MD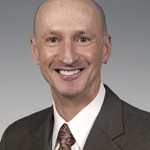 Residency Class of 2013
I grew up in a family of seven kids, each of us encouraged to explore our unique potential. Over the years I've embraced this challenge and pursued a broad spectrum of interests. In my twenties I enjoyed a brief but memorable career as a ballet dancer. In my thirties I became interested in medical science and spent over 10 years in biomedical research working on some exciting new cell and gene therapies. Ultimately pursuing a career as a physician was a natural extension of my passion for medical science, problem solving, and a desire for direct patient interaction.  So it was off to University of Washington for medical school.
My interests outside of medicine are as diverse as my professional pursuits. I enjoy all manner of adventure sports, including telemark skiing, whitewater kayaking, and adventure racing. But I also enjoy riding my Harley and the occasional knitting project. I am however most passionate about being a dad and as such look forward to sharing all these things with my young daughter in the years to come.
Having completed my residency training, I now practice family medicine on the Eastside.