Carrie Lynn Wilcox, MD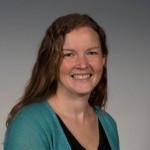 Residency Class of 2017
I was born and raised in the beautiful New England town of South Deerfield, Massachusetts.  My journey west began with undergraduate study in Biology at the University of Notre Dame (Go Irish!) where I met my husband.  Following graduation we moved to the windy city where I conducted research on the genome of the Macaque monkey in the Department of Human Genetics at the University of Chicago.   We then moved to Memphis, Tennessee where I studied HIV at St. Jude Children's Research Hospital prior to starting medical school at the University of Tennessee.  We moved to Seattle after my second year, when my husband matched in orthopedic surgery at the University of Washington.  After two years of research at UW I returned to Memphis to finish medical school.  I then began training as a general surgeon at Swedish Medical Center in Seattle.  I left the program after the birth of my first son and have since had a second son, but now that they are a bit older, I am returning to medicine again. During my time off my interests and priorities changed and I am thrilled to continue my training in the pacific northwest with Valley Family Medicine.
My interest in family medicine begins with ability to develop relationships with patients and make a connection that allows me to truly help an individual or family through a difficult illness or help them back on a road to better health.  This was something that was lacking in surgery and something that I am very excited to be able to pursue. My interests in family medicine are nearly as broad as the field itself.  As a former surgeon I love the procedural aspect of family medicine and as a woman having participated in athletics throughout my entire life, I have a special interest in women's health and sports medicine.
Outside of medicine I love to run and get outside as often as possible.  During our wetter months I try to make it up to Whistler for a little skiing or if I'm lucky a week somewhere with palm trees.  During our beautiful summers I can most often be found strolling around Green Lake or exploring one of the Seattle area neighborhoods with my sons and husband soaking up some much needed Vitamin D.
Following graduation from residency, I will be practicing family medicine with a focus on Sports Medicine in the greater Seattle area.