Brent Wiederhold, MD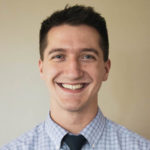 Pronouns: he/him
Hometown: West Lafayette, IN
Medical School: Indiana University
I'm originally from West Lafayette, Indiana – home of Purdue University, Fort Ouiatenon, and lots of corn! I originally thought that I would become a teacher, an engineer, or a zoologist, before I realized I could satisfy all of my passions within medicine. I studied Biochemistry at Indiana University, in Bloomington, before attending IU School of Medicine, where I fell in love with family medicine because of its emphasis on comprehensive, well-rounded patient care, variety, and long-term patient-provider relationships.
I love meeting new people, solving challenging problems, and being conscious about making the world a little better than it was, so I feel incredibly lucky to have the opportunity to do all that every day, and especially to be able to do it in the beautiful and unique Pacific Northwest! I'm particularly interested in caring for patients of all ages, including pediatric and palliative care, as well as point-of-care ultrasound and global medicine, and I still aim to incorporate teaching and mentorship into my daily and future practice.
Outside of medicine, I enjoy spending time with my fiancée, Deb, no matter what we do! I especially love traveling, hiking, getting to know the local wildlife, and trying new foods (I have a weakness for Vietnamese, Korean, and ice cream). When I'm not outdoors, I like to play board games and video games, watch movies, and dole out obscure trivia.