Brandi Boden, DO – Chief Resident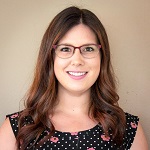 Pronouns: She/her
Hometown: Renton, WA
Medical School: Pacific Northwest University
I am originally from Renton and still have strong family ties to the area. I earned my Associates Degree in Science from Green River Community College. From there I transferred to the University of Cincinnati to complete my Bachelor's degree in Biology with a minor in Chemistry. After graduating, I stayed in Cincinnati for a few years working as a patient care specialist in a Family Medicine office and volunteering at the Children's hospital. I came back to Washington State to complete medical school at Pacific Northwest University in Yakima.
What I like most about Family Medicine is the diversity of patients that you can see throughout the day. Having the ability to care for people of all ages while practicing full-spectrum medicine made Family Medicine the perfect specialty choice for me. The continuity of care and ability to build relationships with patients and their families also draws me to the specialty. My particular interests are Pediatrics, Women's health, Obstetrics, and Preventative Medicine.
Outside of medicine, I enjoy spending time with family and friends, cooking, baking, hiking and traveling. I also enjoy volunteering at Northwest Harvest and other local events. I am so excited to join the Valley Family Medicine Residency team and give back to the community where I grew up.