Anna Goebel, MD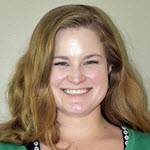 Residency Class of 2020
I have always had trouble with the "where are you from?" question because it was "an unincorporated part of Monterey County" as my mother put it.  I was born in Salinas, California; I had a Salinas address and a Prunedale phone number, went to high school in Castroville, and worked at a candy shop in Monterey.
I truly believe that a doctor's role is not only to prolong life, but also to improve the quality of it.  Family Medicine does so much more than treat disease – it fosters wellness, and wellness is what drew me to medicine as a group fitness instructor in college. While completing my Physiological Sciences degree at the University of California, Los Angeles, I started volunteering as a Care Extender, where I discovered my enthusiasm for exceptional patient care and started to pursue a career in medicine.  I worked as a lab technician and medical assistant for a dermatological surgeon for a year after college before attending the Keck School of Medicine of the University of Southern California.
In medical school, I developed an interest in creating a life of balance in addition to fitness and nutrition. In my free time, I now practice yoga and meditation, listen to a lot of NPR, and can be found making homemade wine and food with my family.