Angela Zhang, DO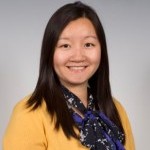 Residency Class of 2016
I was born in China, but have lived in Eastern Washington for most of my life. As an undergraduate student at the University of Washington, I fell in love with the people, landscape, and culture of Seattle. After graduation, I decided to take a leap of faith and move to California to attend medical school at Touro University in the Bay Area. Despite the sunny skies and new adventures trekking all over NorCal and SoCal, the Pacific Northwest continued to tug at my heartstrings, which is why I decided to come back to my home state for residency.
The continuity of care and opportunity to form long-lasting relationships with my patients is what initially drew me to pursue family medicine. Within family medicine I have a special passion for OB and Women's health. I am very excited that I'll be able to not only practice full-spectrum family medicine here at Valley Medical Center, but also to give back to an underserved patient population and my Pacific Northwest community!
Outside of medicine, I enjoy swimming, reading, travelling, hiking, cooking, and of course, spending time with family and friends.
After graduating from VFM in 2016, I decided to stay in the Valley family and will be practicing with one of the network clinics.