As all residencies know, this is a bittersweet time of year.  It's the time when we say goodbye to our third year residents as they complete their training and graduate from the program.
It's very rewarding to see them progress from new interns to confident, great family physicians.
We wish them the greatest success in their new endeavors.
L to R in photo below: Telly Russell, MD; Eli Moreno, MD; Adam Stephenson, DO; James Lee, MD; Kristin Parker, DO; Jennifer Pense, DO, Johnny Shum, DO, Leticia Maragh, MD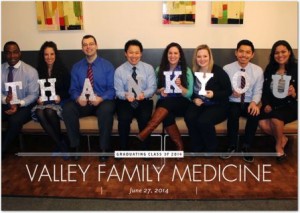 In their own words: "We want to thank you all for your part in developing us into the physicians we are today.  Whether your interactions with us have been big or small, you have made a difference.  Your inspiring words, patience, teaching and guidance along the way has shaped us into physicians that are ready and excited to embark on our new journeys.  Thank You!"
Stay tuned for future posts where we will tell you all what those new journeys hold for our graduates.
Congratulations, Class of 2014!!