Gary Kelsberg, M.D.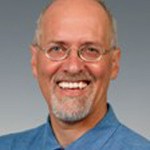 Family Medicine
Gary joined the Valley Family Medicine faculty in 1995. He manages the pediatric curriculum and is also interested in geriatrics, ambulatory medicine, evidence-based medicine, and patient-doctor communication. He graduated from Stanford in 1976 with a Bachelor of Science in biology and attended medical school at the University of California, San Francisco.
After his residency at UCSF- Fresno, he began practice at Group Health Cooperative of Puget Sound in 1983. In 1990, he became the medical director of the 45th Street Community Clinic, and later the Drew Health Center.
He collaborates with residents to write and publish Clinical Inquiries in American Family Physician and the Journal of Family Practice. Gary and his wife, Sarah, are master birders and lead field trips throughout Washington through Seattle Audubon. They have three cats who share their interest in birding. Gary is a six-time ironman triathlete and an open water swimmer.