Andrea Cistulli, DO, MPH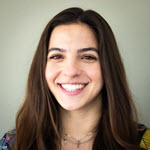 Pronouns: She/her
Hometown: Glendale, CA
Medical School: A.T. Still University
I'm from Southern California, splitting my childhood between Fresno and Los Angeles. I completed my undergraduate studies at San Diego State University with a degree in chemistry and a minor in developmental psychology. After college, I worked at the Pancreatic Cancer Action Network (PANCAN), connecting patients with much needed resources, helping them navigate the different challenges they faced and listening to the stories of their lives. My experiences at PANCAN shaped my interest in working with patients and families throughout their lives and across a diverse range of backgrounds.
These interests drove me to medical school at A.T. Still University, where I concurrently received a master's degree in public health. Through medical school I had the opportunity to work with a variety of different populations throughout the country but primarily spent my time with an underserved population in Washington, DC. I'm excited to begin a career that allows me to care for everyone from the babies to the grandpas and old ladies!
In my spare time I enjoy eating delicious food, doing hot yoga, being outdoors, and watching mixed martial arts and movies.